Australia is a prospective market for several mobile transportation networks companies. Some of them even chose this country as their first global expansion, as did by Ola Cabs and Didi Chuxing before trying getting into the bigger market like US and Europe.
This also attracts ridesharing companies based in Estonia, Bolt (formerly Taxify). A startup company that was established in 2013 has entered Australia to disrupt Uber dominance in the country which operates almost without competition since 2014.
Their service finally formally operates on December 2017 in Sydney and then grows to various other cities like Melbourne and Brisbane within the same year. Offering alternate options for Aussies in several cities to get a safe, reliable and affordable ride.
Bolt (Taxify) City List in Australia
Taxify is not the biggest ridesharing platform in Australia, based on the number of cities served, Uber is the winner, given that they have been operating in more than 20 cities in Australia. Even the Indian-based ride-hailing app, Ola Cabs, which begins its business since February 2018, currently available in 7 cities around the country.
However, we should not be underrated this startup company, because globally, the platform is available in more than 50 cities in Europe, Africa, Middle East and North America. In the middle of 2018 its users reach 10 million riders and partnered with 500 thousand drivers distributed all over the world.
In Australia, Bolt (Taxify) is currently only offered in 3 cities:
| State | City |
| --- | --- |
| New South Wales | Sydney |
| Victoria | Melbourne |
| Queensland | Brisbane*, Gold Coast* |
| Western Austalia | Perth* |
| South Austalia | Adelaide* |
*Pending Availability, Bolt accepting new driver-partners in these cities but riders still can't book a ride there.
We can't predict Taxify strategy for Australia in the future, whether they will expand their services or not. When there is no news about expansion in a new city, probably they prefer to keep focus on the three cities. Considering that those three cities are the most populous city in the country with a population greater than 10 million when combined.
Bolt Vehicles Options
Unlike general ride-sharing platforms, after we try the app, it turns out that the Taxify app doesn't give any vehicle options. After deciding the pickup and destination location in the app, you will see the trip cost and can confirm the booking right away.
By default Bolt (Taxify) will give you low-cost ride option, just like when you order UberX vehicles on Uber platform. So there are no SUVs or luxury cars. It's not a big deal, because the economy ride the is most ordered ride option in any ridesharing platform, with the high availability of driver-partners which implies to less waiting time.
If you ride with them then you will get a vehicle that is mostly 4 doors sedans or even hatchback that can accommodate up to 4 passengers.
As an example, the following are the car which you might get when ordering Taxify in Australia: Toyota Corolla, Mazda 3, Hyundai i30 or other similar cars.
Bolt (Taxify) Rates in Australia
Just like another ride-sharing platform, Taxify also estimates trip expenses based upon distance, time and another surcharge. But starting in September they started trying to implement Upfront Pricing, just like Uber already did in certain cities.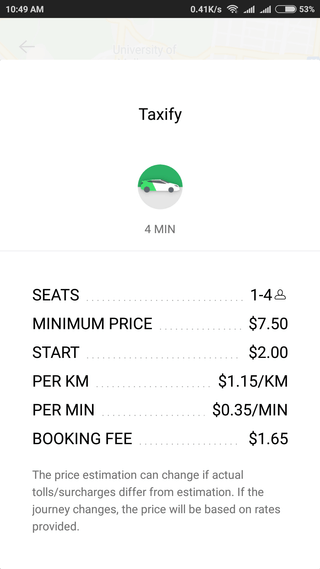 So after entering the pickup and destination, you will notice an upfront fare instead of an estimated. The fare will be locked down, no need to guess about the total/final fares or maybe be shocked when you notice the amount charged is notably higher than estimated.
Sad to say, the Upfront Pricing is only applied to selected cities throughout the trial period. The pricing has been applied in Sydney for the Australian region, along with Paris for the European region.
When calculating the estimated fare, Taxify will be based on:
Base Fare/Start
Per KM
Per Minute
Booking Fee
Additional surcharges (if any)