Ridesharing services in Australia have gained popularity recently due to factors such as convenience, affordability, and flexible transportation options. The demand for ridesharing services in the country has attracted the interest of many new companies to enter the market. The top three rideshare platforms in Australia are currently owned by Uber, Didi and Ola.
The ridesharing industry is highly competitive in Australia, and new companies entering the market must differentiate themselves and offer something unique compared to existing players, target different customer segments, or provide unique features.
One company that does this is inDriver (rebranded as inDrive in late 2022), which officially entered the country in early 2022. They come up with a unique business model. One of their taglines is offer your own fare. This allows riders to propose a fare, which drivers can accept or negotiate.
Riders will determine in advance how much fare they are willing to pay, then they will get offers from nearby drivers with various fares so that riders can choose one of them.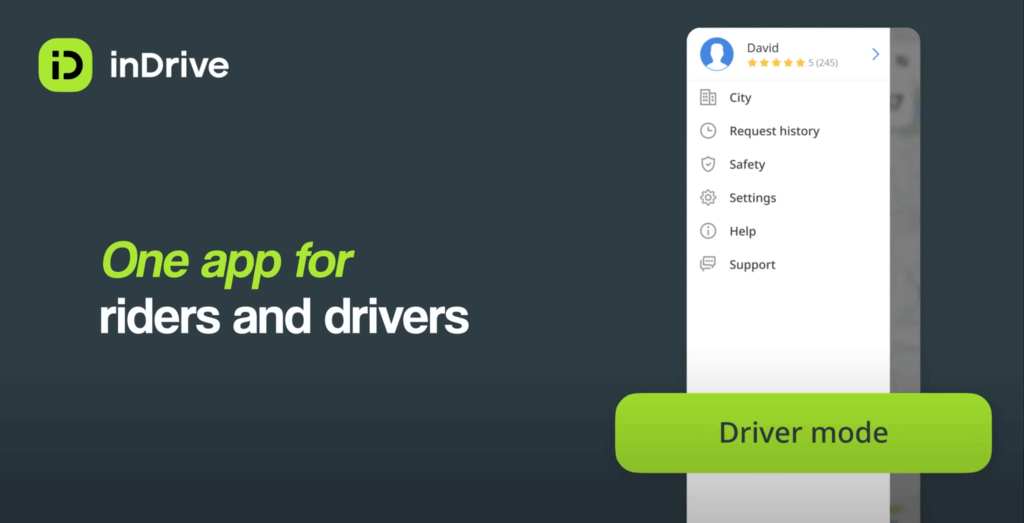 This time we will try to write all about inDriver in Australia, specifically from the point of view of a rideshare driver.
Where is inDrive available in Australia
This new ride-hailing platform first launched in Brisbane QLD around March 2022 under the inDriver brand. Several months later they began to expand to several major cities in Australia until the end of 2022.
As of mid-2023 inDrive can be found in Brisbane, Melbourne, Sydney and the Gold Coast. However, it is possible that in the future they will also open their services in several major cities around the country such as Perth, Adelaide, Newcastle, Canberra and others.
The availability of inDrive drivers may still be limited in certain areas within the city. While not all drivers are aware of this new rideshare platform, some fellow drivers are also uncomfortable with their business model of allowing riders to bid fares.
However, as urban transportation evolves, the number of inDrive users is expected to grow steadily over time in Australia. inDriver unique fare negotiation model and the ability for passengers to choose their drivers based on specific criteria can set it apart from other competitors. These features might attract users seeking greater transparency, control, and flexibility in their transportation options.
How to drive for inDrive in Australia
It's easy to get started with inDrive in Australia, you need to follow these general steps. However, specific requirements and processes may vary based on your location and the current state of Indriver's operations:
1. Sign up online
You can sign up through the official inDrive website or their app. There you can provide information about yourself and your vehicle. Make sure to provide up-to-date information so that it can speed up the application process.
2. Upload your documents
You also need to upload all the docs needed to meet your city requirements. You need to remember that every state in Australia has its own rideshare requirements, so make sure to pay more attention to this.
Actually, the requirements to become an inDrive driver are not too different when compared to other rideshare platforms operating in the country. Here are some of them:
Hold a valid driver's licence in your state or territory
Having an Australian Business Number (ABN), able to show a personal identity, be it a passport, birth certificate or any other documents used for the process of verifying your personal identity.
Provide additional docs to get authorised to drive in some states like the Passenger Transport Licence Code (PTLC) in NSW, and Driver Accreditation in Victoria and Queensland.
Pass a criminal background check through an accredited criminal history provider.
You can see more complete and up-to-date information about the requirements to drive with inDriver when you go through the registration process on their app or website.
3. Driver Account Activation
Done uploading all the required docs, the next step is to wait for the inDrive team to review your docs. If all the requirements have been approved then your inDriver account will be activated, which means you can immediately hit the road with the platform.
How much driver can earn from inDriver in Australia?
With inDrive, drivers have the option or negotiate the fares offered by the riders. This can result in a wide range of potential earnings, as drivers can choose to accept fares that they think it is worth accepting. It means drivers might have more control over the fares they earn. However, drivers could potentially earn less if they are unable to secure higher fares from passengers.
The earnings for drivers on inDrive can vary based on several factors, including location, driver activity, market demand, how many drivers from various platforms were online at the time and so on. It's important to note that the specific earnings for drivers can change over time and are subject to various market dynamics.
However, here we will try to get a rough idea of how much drivers usually earn when they drive with inDriver in Australia. This time we'll find out by requesting a ride with inDrive and seeing what rates are offered by drivers.
As a comparison, we also compared inDrive's fare with two other platforms such as Uber and Didi. To find out which of the three platforms offers the best rate to drivers.
This time we experimented in three major cities in Australia where inDriver has been operating for quite a long time. The three cities are Sydney, Melbourne and Brisbane. We also matched the distance between pick-up and drop-off points for the experiment which was about 10km, according to Google Maps' best route calculations. We did this experiment on the last Friday in July 2023.
Sydney, NSW
Our first experiment was in Sydney with a pick-up point around George Street with a drop-off around Anzac Parade at a distance of about 10km. According to Google Maps calculations, the trip will last for about 15 minutes.
At that time, inDrive's recommended price was $26.2 for the trip. We also tried to find a driver at that rate without adjusting it. A few moments later we received several offers from drivers, including drivers who agreed with the recommended price offered by inDriver ($26.2).
Then, is the fare recommended by inDrive worth taking? To find out we'll check the fare from Uber and Didi in the same location and at the same time.
As a result, UberX offers $27.91 which is close to those recommended by inDrive, while Didi Express offers the most expensive fares of the two ($30.89).
Melbourne, VIC
Next, we experimented in Melbourne, the pick up address was around Brunswick Street with a drop off location around Rosamond Road. According to calculations from the Maps app, at that time it took around 35 minutes to travel 10km.
At that time inDriver's recommended a fare of around $29.3 for the trip. When we try to find a driver we don't find offers with similar values. And back then almost all drivers offered a slightly higher fare ($33 – $35).
We also check fares on other rideshare platforms. Didi Express offers $32.03 while Uber offers $35.39 for this ride. For your information, at that time there was a surge in demand, so fares were slightly higher than usual.
Brisbane, QLD
Our last experiment was in Brisbane with a trip that started around Chester Street and ended at Fairy Street. The distance between the two locations is still the same, which is about 10km which is expected to last for 25 minutes.
For this trip, inDrive's recommended price was $22.3. But we get a higher offer from the drivers which is around $26 – $30.
For comparison, Uber offered a fare of $29.28 and Didi Express offered $31.06 for the ride. The price of both platforms was slightly higher because at that time there was a surge in demand.
So, is inDrive good for drivers?
Based on the experiments we outlined earlier, you can see that the fares recommended by inDrive to riders are almost always below other competing platforms, such as Uber and Didi.
But we need to remember that the price offered by the three platforms is likely to be a gross fare. So the fare shown above is the fares charged to riders, and it includes the service fee, levy, ctp, etc.
As we know, Uber deducts around 25% service fee from drivers, while Didi charges 15%. As for inDrive we don't know how much exactly, but they have said that if their commission fee will be lowest in the market, it is likely to be around 8% – 10% as applied in other countries.
In our opinion, if the fare of the three rideshare platforms is only different couple of dollars. Then the driver's net earnings won't be too different. But still, it's recommended to research and consider feedback from drivers in your area who have experience with inDrive. For additional insight, you can also read our other posts discussing which rideshare platform is best for drivers in Australia.
Here are some potential pros and cons for drivers considering inDrive:
Pros:
The app's unique fare negotiation system allows drivers to have more control over the fares they earn.
Experienced drivers who know how much they should be paid might be able to secure higher fares compared to platforms with fixed fare structures.
The platform's unique business model could reach more passengers looking for alternatives to traditional fixed pricing models.
For multi-app drivers, inDrive can help when other rideshare platforms are quiet. More apps mean more opportunities to get trip requests.
Cons:
Drivers might not always secure the fares they desire, because some riders adjust the fare to a minimum level that makes the trip not worth doing.
inDrive might have limited availability in certain areas in Australia compared to larger ride-sharing platforms like Uber or Didi. This can result in fewer ride requests and potentially lower earning opportunities.
The negotiation process can be time-consuming because drivers have to wait for their offer to be selected by the customer. Some drivers might prefer a more straightforward fixed pricing model.