Uber is an US-based on-demand transportation service which expands into Australia and New Zealand in 2014. It's also referred to as a ride-sharing or ride-hailing service. Whatever it is, Uber is an app platform that connects riders and driver-partners in real-time.
The users get the convenience of getting a ride with just a touch of a finger using their mobile phone, while the Uber drivers (or sometimes called as driver-partners) can earn some money by driving.
The driver-partners are the important things in the ridesharing platform. The quantities of drivers determine the service coverage around the city and also the passenger pick-up time. More driver-partners means a broader range of service areas and shorter waiting time needed for an Uber rider to get a ride.
Why should I drive for Uber?
It seems a most asked question before someone starts to be an Uber driver. If you are still hesitant to join Uber? Here we provide reasons for you to drive:
Get Hired Fast
Working Uber is like other jobs. You need to apply and continue the certain criteria to be a driver. But, it is not like many driving jobs, it doesn't require you to experience as a transport driver to fulfil the requirements, even though you have to provide a few documents to them.
Extra Income
Of course, it is related to extra income. The number can be varied depending on the location where you live, request, demand, and intensity of working. According to a national study in the US, 80% of driver-partners drive less than 35 hours a week, more than half of them are driving as part-time jobs which drive between 1 and 15 hours each week.
Flexible Schedule
Only drive when you want it, outside the regular 9 to 5. As an independent contractor, you can drive even at the night after work on weekdays or set your own daily driving schedule.
Fast Payment
Commonly, Uber pays driver-partners every week. It is carried out every Wednesday. However, Uber also offers Instant Pay, which allows you to cash out your earnings up to 5 times per day.
Driver-Partner Incentives
Sometimes Uber offers Boost promotions that are available for specific times and locations to select driver-partners on a weekly basis. They offer bonuses for driver-partners who successfully complete a number of trips in a week. For example, if you finish 25 trips in a week, you can get $$ bonuses and 35 trips can get you more $$$ besides your weekly earnings.
Sign up to Drive with Uber in Australia and New Zealand
Unlike other jobs that require you to send resumes to get hired, to become an Uber driver-partner, you can directly register and be approved to drive as long as you have the required documents. Uber still need new driver-partners due to increasing rides demand and new users, especially in Australia and New Zealand.
You do not need to come to the Uber Greenlight Hub for registration. You can do this online via computer or your mobile device.
It's easier because you only need to fill out the form and upload all required docs online. Faster because you can do it anywhere without the need to come to GreenLight Hub, which might require you to drive a few hours to get there.
The following are the steps on how to register online for Uber driver-partners:
Go to Uber Driver-Partners.

Start the whole process by Sign Up to Drive with Uber, You can use a smartphone or a personal computer at your home or office.


After that, fill in the requested information:

Name: Your first and last name.
Email: An active email account, make sure you can access it.
Phone number: Use your active cell phone number with the country code in Australia (+61) or New Zealand (+64).
Password: Enter your desired password, and make sure you can easily remember it.
City: Type the name of the city where you will be actively driving.

Tip: If necessary, write down your credentials account on a note, you will not be able to log in if you forget one of the information above.

Choose how you would like to partner with Uber. You can try UberX because it is the most popular Uber service with quite easy requirements.
You will be asked to agree with the provided Legal Consent and also the Terms and Conditions, you can review it before approving it.

Driver Registration Requirements
After approving consent as well as terms and conditions, you will be directed to the Required Documents page. There are several personal and vehicle documents required, including Car Comprehensive Insurance, Driver Licence, Profile Photo, Proof of ID and Driving Records (in some states).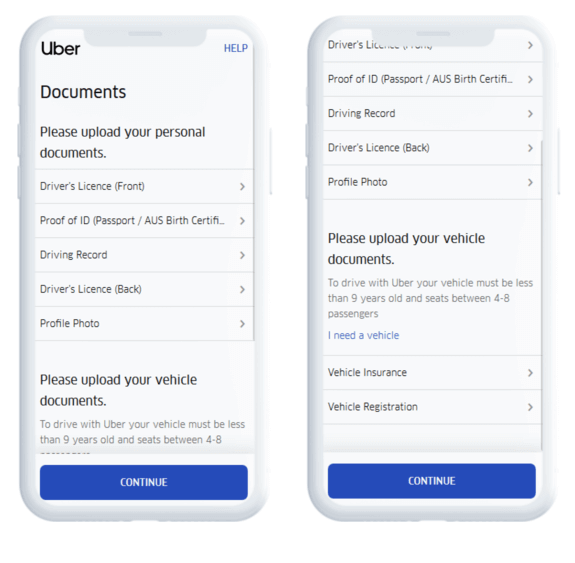 Every state in Australia applies different requirements for rideshare drivers. Hence, we provide separate writing about the requirements that you can read in the Driver Requirements section of this site.
Driver Registration Status
Sometimes, when you want to register as a driver-partner you don't have all the documents needed at the same time. But you don't need to be worry because Uber doesn't require you to upload it at once.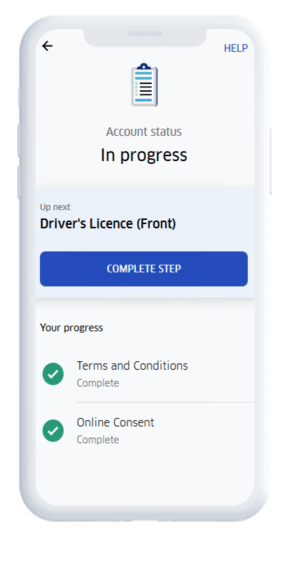 Start by uploading basic documents that you already have like Driver's License and Profile Photo. You can log in again at any time when you have received additional documents and upload them.
Track your registration status directly from the registration page by selecting the HELP on the top right option.
When all documents have been verified and approved, download the Uber Driver app from Apple App Store or Google Play Store, log in and start driving immediately.