Almost all ride-hailing platforms found in Australia are derived from overseas startup companies, which include the United States (Uber), Asia (Ola and Didi) and Europe (Taxify). But did you know that there is a startup company that is founded and developed by Australians, it is GoCatch.
GoCatch was founded in 2011, one year before Uber came to Australia through Sydney. Founded by two people who back then had trouble getting conventional taxi rides in some cities. Influenced by this unpleasant experience, an idea to create a platform that made it easier for Australians to get a taxi by making their very own Taxi Booking app came up.
Their main service at that time was booking taxis, cooperated with taxi drivers. But as time passes as well as the arrival of Uber who offered private vehicle booking services UberX, they began to think about doing the same thing.
To be able to be competitive and distinguish itself from competitors, GoCatch enforces several policies and feature on their services, which include No Surge Prices, Fastest Route Guarantee and Hail & Pay.
You will not be subject to surge prices when the ride request is greater than the availability of vehicles. Fastest Route, the app guarantees you only pay fares for the fastest route, if the driver deliberately takes a long route which results in increased fare then they will refund the rest.
There is one new feature that is quite helpful when you in rush, and when there is no time to book and waiting for the vehicle to pick you up, it's Hail & Pay. With this feature, you can hop into any GoCatch Taxi that comes across on the road (but you still have to ask if the taxi driver has a GoCatch app) and pay in-app when the trip ends.
GoCatch City List
We can't say for sure where GoCatch is available in Australia, as there is no accurate and updated information about city availability on GoCatch official site.
We only find information where GoCatch welcomes sign up of new driver-partners, there we can notice all states and territories in Australia, including New South Wales, Victoria, Queensland, South Australia, Western Australia, Northern Territory, Tasmania and The Australian Capital Territory.
When trying to open the GoCatch app in a number of major cities, like Sydney, Melbourne and Brisbane we are able to locate drivers around for Economy and Taxi services. This can be seen from the car icons on the map that shows the position of drivers.
But when we seeking it at the Gold Coast and Adelaide which is also the high populated cities in Australia. We can only see a couple of drivers for Economy and Taxi services.
Here's the list of city where you can find GoCatch around Australia:
| State | City |
| --- | --- |
| Queensland | Brisbane, Cairns, Gold Coast, Sunshine Coast, Toowoomba, Townsville |
| New South Wales | Sydney, Newcastle, Wollongong, Muswellbrook |
| Victoria | Melbourne, Geelong, Ballarat |
| Tasmania | Hobart, Launceston |
| South Australia | Adelaide |
| Australian Capital Territory | Canberra |
| Western Australia | Perth |
| Northern Territory | Darwin |
Vehicles Options
When compared with Didi and Taxify that only has one option, GoCatch has quite a number of vehicle choices, just like Uber in Sydney which has 7 choices of vehicles. The following are their vehicle choices:
Service
Features
Vehicles
Economy
Affordable ride with private cars
Up to 4 seats
Sedan or SUV, may include Toyota Camry, Kia Sportage or Holden Astra.
Premium
Luxury cars with a professional driver
Up to 4 seats
Sedan or SUV, may include Mercedes, BMW or Audi.
Taxi
Taxi ride without hailing
Up to 4 seats
Conventional Taxis.
Premium Taxi
Premium taxi with a professional driver
Up to 4 seats
Premium Sedan Taxi with leather seats.
Maxi
Great ride for Groups with luggage
Up to 7-9 seats
Vans which may include Toyota Hiace.
However, not all vehicle options are available in every city, only major cities like Sydney where you can find options entirely. The most widely available services are Economy and Taxi.
GoCatch Rates in Australia
Just like many other ridesharing apps, GoCatch will also display the estimated fare after you enter the pickup location and destination.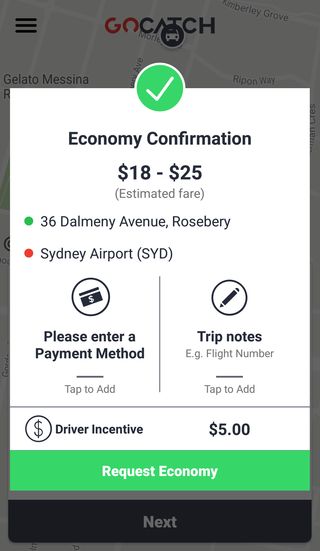 The estimated fare will change when the road conditions when on-trip are substantially different due to some factors like uncommon traffic jams.
When it turns out that the driver-partners deliberately take the farthest route without reason so that it will make the trip duration lengthier and your trip fares higher, you can claim and get a refund, because GoCatch applies Fastest Route Guarantee.