China-based mobile transportation platform Didi Chuxing is currently working on a massive expansion. After successfully mastering all of China and making Uber out of the country by buying its China operations.
After doing well with Uber now Didi seems to be more confident to further expand its network, not only in its homeland but around the world.
Australia is the next goal, a continent with more than 24 million people is definitely a potential ridesharing market despite the fact that there are already veterans ridesharing service – Uber and India-based rideshare company – Ola Cabs.
Didi arrived in Australia in June 2018 begins with the City of Melbourne and Geelong by bringing in ridesharing business experiences and world-class technology. They offer a safer trip that starts with the stringent recruitment of driver-partners, on-trip sharing, and phone number privacy.
Didi Chuxing probably is not so familiar to you, as it is only available in a few countries. But this company was able to become one of the World Most Valuable Start-up Companies with a valuation of US $ 60 billion in mid-2017. The Company also invested in several ridesharing companies such as Lyft, Grab, Careem and also their rivals in Australia, such as Uber, Ola and Taxify.
One of Didi's main strategies in 2018 was Globalization, in addition to Australia, this transportation network company also started to expand its services to Japan and Latin America. Providing intelligent transportation solutions for cities around the world.
Didi City List in Australia
Currently, Didi only goes into business in four cities in two states, in Victoria (Melbourne and Geelong) and New South Wales (Sydney and Newcastle). They chose the four cities since they were all big cities with millions population when combined.
| State | City |
| --- | --- |
| Victoria | Melbourne and Geelong |
| New South Wales | Sydney* and Newcastle* |
* Pending Availability, Didi accepting new driver registration in the cities but passengers still unable to book a car there.
We can't say for sure whether Didi will broaden to another state or not. Chances are, now they are still evaluating their achievements in the first four cities, then determine the strategy of expansion to even more cities in Australia.
However, if we look at Didi's global strategy to continue to grow outside of its homeland and their plans for IPO in 2019, then there is a possibility that they will expand their ride-hailing services, at least in other big cities like Sydney or Perth.
Didi Vehicles Options
As opposed to Uber and Ola that are fitted with more than one vehicle options. Didi happens to be more comfortable with only giving one option, it's called Didi Express, an economy ride option just like UberX and a basic service from other ridesharing companies.
So, when you order a Didi Express ride you will get a vehicle that is mostly sedans that can accommodate 4 passengers like the Mazda 3, Toyota Corolla, Toyota Camry, Holden Cruze and similar vehicles.
Didi Rates in Australia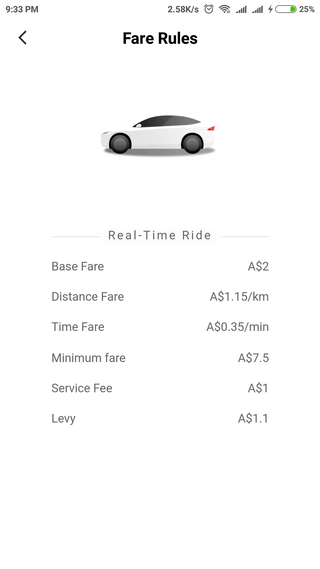 You cannot find any difference with other ride-hailing applications when booking a ride with Didi in Australia. When you open the Didi Rider app and determining the pickup and destination location, you will see the approximated trip costs right away on the phone screen.
The fare is not really an upfront price, so it can change in case the trip time to reach the destination becomes longer or the driver is required to change the route due to various factors.
The Didi fare in Australia will be based on rates as listed below:
Base Fare
Distance Fare (per KM)
Time Fare (per minute)
Service Fee
Levy Fee