The ride-hailing industry or commonly known as rideshare has grown significantly over the last 10 years in Australia. It started with the arrival of Uber at the end of 2012 in Sydney, which at that time served Uber Black service only. Currently, their service is available in all states and territories across the country.
The rideshare service has helped make Australians' everyday life less complicated, it's saving their time and improving mobility. Not only that, but the presence of this service also opens opportunities for Australians to get additional earnings by driving around the city.
Many people are interested in driving with a rideshare service like Uber because of its flexibility and ability to control their hours. According to The Impact of Uber in Australia report, 67% of rideshare drivers and delivery persons said they were satisfied with their experience using the Uber driver app. In 2021, they estimate that drivers and delivery persons will make an additional $456 million a year in earnings through Uber.
After Uber succeeded in Australia, several other similar companies started to open their services in the country, such as Ola, Didi and Indriver. All of these platforms are trying to shift Uber's dominance in the market.
List of the best rideshare app to work for in Australia
As we know, on-demand transport in Australia was popularized by Uber and the company dominated the rideshare market in the country for a very long time. Uber started operating in 2012 and they only got serious competition when Ola arrived in early 2018, which was then followed by Didi in the same year.
The following is a list of worth trying rideshare platforms in the country that can help you earn extra money with your own schedule.
Uber 
According to Roy Morgan's studies, the proportion of Australians using the Uber rideshare service in an average three-month period has increased from 6.6% (1.3 million) to 22.9% (4.7 million). In another study in 2020, of all Australians who use a rideshare service for an average of 3 months, 93% of them ride with Uber.
Didi
China-headquartered rideshare company – Didi, was launched in Australia in mid-2018 with its catchy tagline, "Low Fares Every Day". Even though it came late, 6 years after Uber started operating, Didi was quite successful in taking part in the rideshare market. Currently, many rideshare drivers use Didi as the main alternative when they are not driving with Uber.
Ola
The Indian ridesharing provider Ola launched in the country in early 2018. Its presence offered Australians another option to move from point A to B. It did not take long for Ola to stick their influence on the Australian ride-hailing market, within a few months they were able to reach 1.5 million rides in their first three cities.
Indrive
Indrive started launching its ridesharing business in Brisbane in early 2022 and its service is currently available in several major cities around the country. The company takes a different approach by bringing a new rideshare model called "set your own price". Where drivers and customers can set their own prices.
Which rideshare is best for drivers in Australia
According to Roy Morgan's findings, a larger proportion of Australians (aged 14+) are using rideshare apps like Uber compared to taxis. This significant increase in rideshare users shows the new fact that taxis no longer favoured private transport services in the country.
A dramatic rise in popularity shows that Australia is a lucrative market for rideshare service providers. Several companies have opened their ride-hailing services in this country, but there are only four apps that are most recommended, namely Uber, Didi, Ola and Indrive.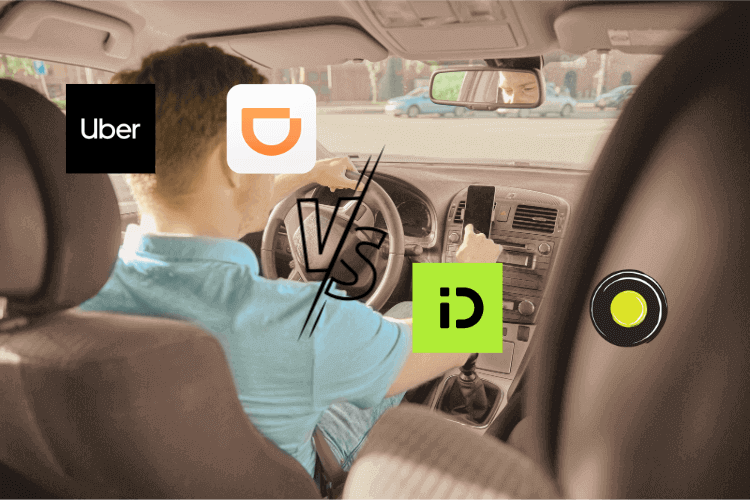 In the following, we will try to compare the four based on several essential aspects such as requirements, how busy a driver is on the platform, service fees and more.
1. Uber
As the leading rideshare market in the country, making Uber a rideshare platform with the largest network of active riders in 8 states and territories across the country. This means you can expect more ride requests when driving with Uber compared to other platforms.
Requirements: Most cars that are 15 years old or less are eligible to drive with their basic service, UberX. This provision applies in most states except Adelaide, SA (8 years old) and Darwin, NT (9 years old). Apart from that, Uber also requires that vehicles are ANCAP 5-Star rated, or get listed in their vehicle exemption policy.
Activity: Driving with a well-established rideshare platform with the most active users will certainly provide its own advantages. A driver may be busier when going online with Uber than with competing platforms. This can apply in almost all cities where their services are available
Service Fee: The standard Uber service fee is 27.5% which will be deducted directly from the fare received by the driver. Sometimes Uber reduces its service fee, but that only happens temporarily when there's a promotion going on.
However, if you want to keep driving with this platform and at the same time want a lower commission fee, try to drive with Uber using an electric car. Starting in mid-2022, driver-partners who use a battery electric vehicle (BEV) will have a 50% reduced service fee till June 2025.
Promotions: One of Uber's efforts to increase its driver earnings is to offer various promotions, supplements and incentives. The first is Quest, a promotion that requires drivers to complete a certain number of trips in a certain period. Boosts, an opportunity to multiply driver's pay. Surge, allow drivers to get more trips and earn more. 
2. Didi
Didi seems to have managed to gain substantial shares from Uber. This can be seen from several riders who have also started using this platform to take a ride, especially in big cities like Melbourne and Sydney. The platform's rideshare service is operating in 28 cities across 6 states and territories.
Requirements: To be eligible to drive with Didi your vehicle must be no more than 10 years old in most cities except in South Australia where your vehicle must be less than 8 years old. However, in certain cities they allow the use of 15-year-old vehicles, just ask them about the requirements update before joining up.
Activity: Even though it's not as busy as Uber, Didi can still be relied upon, especially for those who drive with multiple apps. Rideshare users or riders don't have just one app these days. When they want to request a ride they will compare the trip fare of several apps. Didi is most likely to be chosen because it sometimes offers lower fares.
Service fee: When they first came to Australia, Didi only charged a 5.5% service fee from the driver. After that, through its Didi Advance program, they change the platform service fee to 5% – 20%, depending on the driver's level in the program. In 2022 they changed it again, this time all driver-partners are subject to a 15% service fee for each trip.
Promotions: Didi offers several promotions that have the potential to increase driver partners' earnings in the form of Guaranteed Earnings Rewards, where they will top up the driver's earnings to the guaranteed amount. Apart from that, there are also Trailblazer Rewards, extra bonuses if the driver completes a certain number of trips in a certain period.
3. Indriver
As the newest rideshare platform that enters the Australian market, Indriver continues to expand its services in almost all countries across Australia. Currently, their application is available in several major cities such as Sydney, Melbourne, Perth, Adelaide and Brisbane.
Requirements: There are no special requirements from companies to work on their platform. If you are currently driving with Uber, Ola or Didi then you will have no problem getting approved with this platform.
Activity: Using the Indrive app, a rider can suggest a fare they are willing to pay to the driver. From the rider's side, of course, they will try to offer the lowest possible price. As a driver, you will probably get offers quite often when online in busy zones, although the fares are sometimes below other apps.
Service fee: Indrive is still imposing a 0% service fee promotion to its drivers in Australia for a limited time. When this promotion ends, chances are they will start charging commissions for up to 10% of the fare, just like in the other countries in which they operate.
Promotions: Indrive offers a limited-time 0% service fee to its driver-partners in Australia. This means, during the promotional period, drivers will get 100% of the fare from riders, of course, after deducting tolls, government levies or other fees.
4. Ola
Ola has also managed to gain significant shares in several cities. While not as busy as Uber, some Ola drivers also say they're starting to get quite a few ride requests, especially on the weekends when a lot of people want to get out. 
Requirements: Just like Didi, to drive with Ola in most cities in Australia the vehicle must be less than 10 years old, except in SA and NT where your vehicle must not be older than 8 and 9 years old.
Activity: As a newcomer, Ola isn't generally busy all the time, not like Uber. But don't underrate this platform, even though this doesn't happen every day, when the trips come they pay really well. So, driving with Ola along with other apps might help increase your daily earnings. 
Service fee: Based on information from several drivers, the standard Ola commission rate in Australia is 15%. This means driver partners keep 85% of the fare, excluding fees, tolls & other charges. The rates are the same as Didi and lower than Uber. 
Promotions: Ola also offers rewards to its driver partners to lure more drivers online with their platform. Similar to other rideshare platforms, they will give rewards when drivers complete the required trips within the specified time which usually lasts for a week.
How much Uber drivers earn in Australia
Before we start to compare which rideshare platforms are good for drivers, we need to know how much drivers usually earn on the most popular platform in the country.
We use Uber as a reference because this platform is used by most of the rideshare drivers in Australia and this time we will use the UberX service in the city of Sydney as an example.
Here are the UberX rates in Sydney as of 15 May 2023 according to their official rate estimator:
Base fare: A$3.35
Booking fee: A$0.85
Per-minute: A$ 0.42
Per KM: A$1.50
We will take the example of a trip that starts from the area around North Parade, Mount Druitt 2770 to Hansard Street Zetland 2017 which is about 45 km and it's completed in 47 minutes. In the example, the driver earns about A$67.51.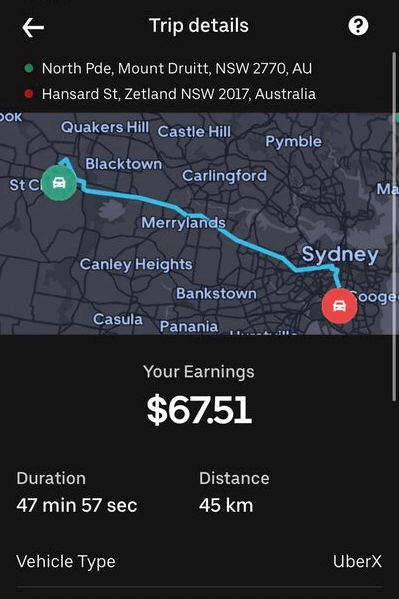 Are you curious about how much drivers get for shorter trips? We also have examples. A trip that starts from around Constitution Road 2114 to Bowden Street 2112 with a distance of 1.5 km and lasts for 4 minutes. Driver earns A$6.54 on the trip.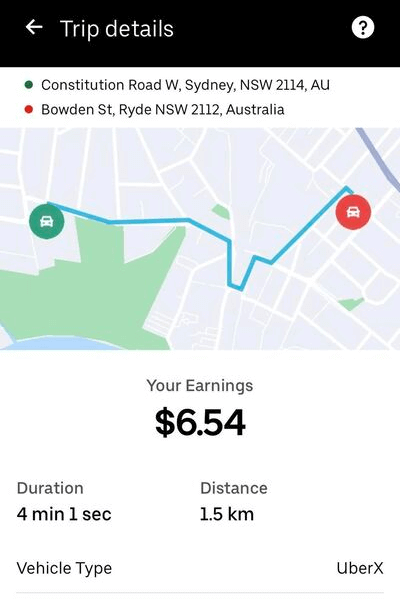 Maybe some of you will see that the driver's earnings above are not that good. Actually, rather than worrying about a trip that looks low, many fellow drivers recommend calculating every trip for a week. There you will find if some trips will seem underpaid and some will seem overpaid because of surges or other things.
If you want to know more, like how much does a Sydney Uber driver earn each week? We have one example from an Uber driver taken in February 2023.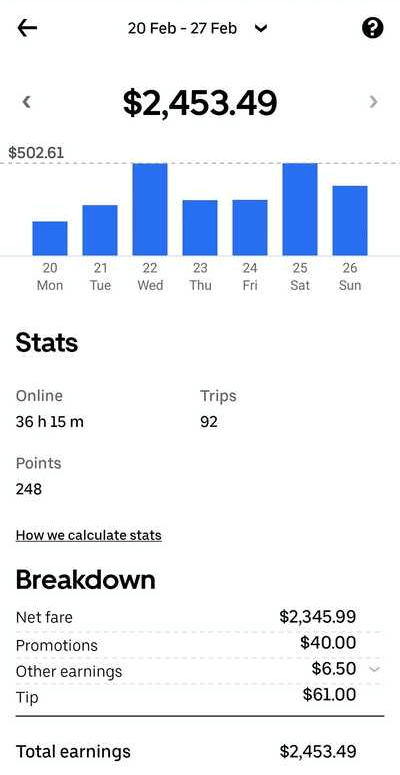 In the screenshot above, an Uber driver managed to earn A$2,453 for one week. This income is obtained by completing 92 trips during 36 hours and 15 minutes online time.
You can also see there the income includes the platform's promotions as well as tip which we didn't expect to be that much. Because as we know tipping is voluntary in Australia.
Uber vs Didi for drivers
The rates paid to drivers by Uber and Didi in Australia may vary depending on a number of factors, such as location, demand, time of day, and driver performance. However, according to some reports, Uber generally pays its drivers slightly higher rates compared to Didi. Maybe because Didi applies lower fares for its riders for the same time and distance.    
Additionally, it's worth noting that both companies may offer various bonuses, incentives, and promotions to their drivers at different times, which could affect drivers' earnings. 
The best way to determine which platform pays better for drivers in a specific location and time would be to research and compare the rates and incentives offered by both companies in that area.
Here is an example video from a rideshare driver who compared how busy Uber and Didi are in Sydney.
The two videos were taken at nearly the same time, and you can see if the Uber app shows that areas are surging. Meanwhile, this cannot be seen in the Didi drivers app.
As we know Uber has the largest number of active riders in the city, which means that there will be a lot of trip requests that will cause surging in that area. One day this could also happen to Didi when this platform is getting more and more known and has quite a lot of active riders.
Uber vs Indriver for drivers
To be able to experience the rideshare market in Australia, which is currently led by Uber, is not an easy job. The platform must have various advantages that the market leader does not have.
Indriver comes with a unique concept that competitors don't have. Unlike other ride-hailing apps that set fixed prices for rides, InDriver allows riders to suggest the fare they are willing to pay, and drivers can accept or reject the offer.
Negotiated fares will allow drivers to earn more money by setting their own prices. But that will only happen if many riders agree with the fares offered by the drivers.
However, some drivers do find InDrive to be quite a profitable and worthwhile platform, while others may not. Ultimately, it depends on the individual driver's experience and circumstances.
Below we have included some screen captures from fellow drivers which can help you imagine how much Indriver riders in Australia usually offer.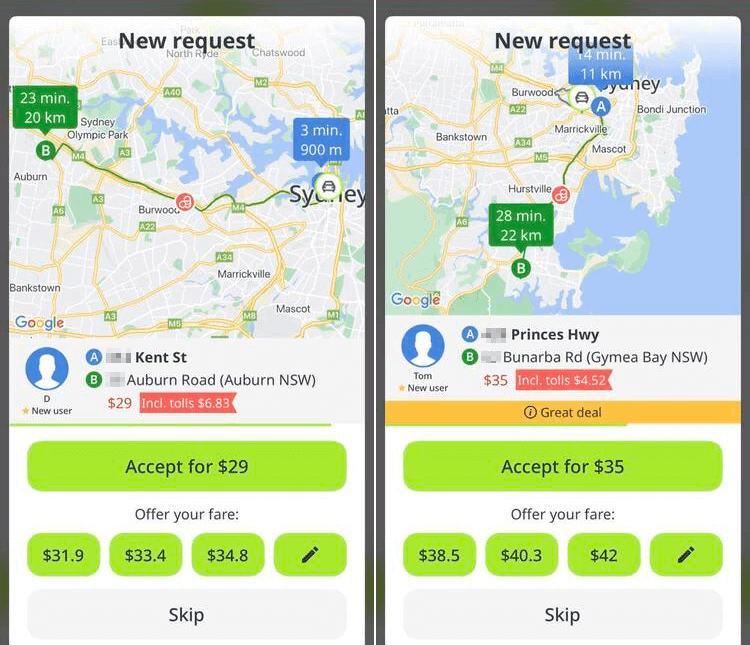 Which rideshare app pays the most in Australia
After comparing Uber, Didi, Ola and Indrive from several aspects such as how busy the application is and how much the service fee is taken from the driver. Next, you might want to know which rideshare app pays the best to drivers.
As we know, gig drivers of earnings depend on many factors such as customer demands, time, location and several other factors. However, in our opinion, the rideshare platform used by drivers is also one of the factors that determine how much drivers earn.
A rideshare platform with the largest network of active users will provide more opportunities for drivers to get more trips and earnings. In Australia, Uber service is the market leader and most popular platform with 3.8 million active riders across the country.
But sometimes a busy platform may not be able to help drivers make good money if the pay is low. So some drivers are trying their luck driving with other rideshare platforms like Didi, Indrive and Ola, hoping to earn more for every trip.
One of the factors that determine rideshare driver pay is the platform's commission rate or service fee. A fee that drivers must pay to a rideshare platform. Of the four rideshare platforms, Uber sets the highest service fee (27.5%) while Didi Ola and Indrive take 10%-15% from drivers
Then, does the lower service fee mean that drivers will earn more for each trip every day? If the calculation is true. But you have to consider several things such as surge time, promotions and how many trips you can complete in a day.
So, who's the best?
Honestly, to date, there has been no exact answer to this question. Because when we asked some rideshare drivers out there the answer was always different. Some say Didi pays better and other drivers remain confident that the Uber platform is still number one in Australia.
However, there is one answer from drivers that I think is quite smart. He stated that if you plan to become a full-time rideshare driver, consider driving with Uber, or at least prioritize it when driving with multiple apps. Because as the market leader of this country, the platform has quite a lot of demand. The possibility to earn decent money is very likely to happen when it's busy.
On the other hand, if you're just driving in your spare time, make it only as a side hustle. Then you can freely choose one of them according to your personal preferences. For example, when it's busy focusing on Uber since the surge price is sometimes very hard to miss. 
The way to find out more clearly is to drive with multiple apps at the same time to compare two or more platforms in real time.
Alternative to rideshare driver in Australia
If you want to earn additional income but are uncomfortable with bringing strangers into your vehicle, or the condition and age of your vehicle are not eligible to enter the rideshare business? Don't worry, there are still other alternatives for this gig.
Becoming a delivery driver is one of the most popular alternatives to rideshare gigs. There are many well-known platforms such as Uber Eats, DoorDash and Menulog. You can read a comparison between the three food delivery platforms and how much they make.
Rideshare driving typically requires a newer model car and a lot of requirements, whereas delivery driving may allow for older or fewer requirements. This can impact the cost of entry for each type of driving.
Rideshare driving also requires you to interact with passengers, which can be positive or negative depending on your personality and preferences. Delivery driving, on the other hand, requires less customer interaction.