Only a few people are aware of Didi in New South Wales (NSW), a ride-sharing startup company headquartered in Beijing, China. A company that force Uber to leave China by acquiring its operation in the country in 2016.
In Australia, Didi starts with Melbourne in mid-2018 and reunited with their classic competitor, Uber. When this service was first launched, the ride-hailing app can only be used in the state of Victoria (Melbourne and Geelong). However, it's now already available in Newcastle following by Sydney later.
Not only rivalling with Uber, in New South Wales, Didi also has to compete with Ola, Taxify, GoCatch and other smaller ride-hailing startup companies.
To be able to get enough drivers to work on their platform, Didi lured new partners with low commission fees (up to 0%) with Didi Advance program and additional rewards such as referral rewards and guaranteed earnings.
The launch of a new ride-booking can be an advantage for the community considering that there are more transportation options. The operation of the new rideshare service can also be an opportunity for people who live in the city, as there is a new chance to become a rideshare driver.
To sign up as a Didi driver in Newcastle is fairly easy, even you don't need to go outside since everything can be done with a PC or a smartphone. In order to be approved by Didi, you have to prepare various requirements, be it related to your personal information or documents of the vehicle.
Where is Didi Available in NSW?
NSW is the second state where Didi launched their rideshare service after it was previously launched in Victoria in mid-2018. Didi in New South Wales first came to Newcastle on March 2019, and skip Sydney as the state capital.
However, Didi began opening driver-partner registrations for Sydney at the end of 2019, even though at that time their services could not be used by customers until early 2020.
For those who have previously registered as drivers-partners in Newcastle, you don't need to worry. You can still drive with Didi in Sydney without making any changes to your account since you're registered in the same state.
Didi Driver Documents Requirements
Driver documents are required by Didi to find out your individual information. The requirements of these docs don't only apply to Didi, but also all rideshare services to comply with the state's regulatory.
The New South Wales Government has issued new regulations to control rideshare services. For that reason, to be able to provide rideshare services with Didi in the cities of Newcastle, you must meet a number of requirements listed below:
Driver Licence


The required driver license is Full License (not Learner P1 or Provisional P2 License) and held it for at least 12 months. You also need to be 21 years old or above to register.

Additional Requirement: PTLC (Passenger Transport Licence Code)
Based on the most recent regulations from NSW Government, all rideshare drivers are required to have a PTLC code to their driver license to be able to provide passenger transport service. You can visit local Service NSW and submit your application there.

Proof of Identity


Proving your identity is essential when dealing with transport service, it's also necessary to protect the Didi passenger and the driver-partner itself. The proof of ID can be an Australian passport, birth certificate or citizenship certificate. In case you only have an international passport or Immicard, then Didi may perform a VEVO (Visa Entitlement Verification Online) check to take a look at your work rights in the country.

Driving Record


Safety on the road is Didi's top priority. The driving record can guide Didi to make a decision whether you eligible to pick up passengers with them or not.

Generally, the rideshare company only requires you to get an online type of driving record that can be purchased online.

National Police Check


Another effort being taken by Didi to provide security to its users is by background checking its drivers before joining their platform. If you already have one, you can use your current police check result as long as the result was issued no more than 6 months ago.

If you don't have one or it has been expired, you can apply a new check from ACIC accredited providers such as Intercheck Australia who have worked with Didi to facilitate its driver-partners.
Didi Car Requirements in Sydney and Newcastle
In addition to regulations relating to the driver's personal information, Didi also has requirements related to your vehicles. The car requirements applied to ensure that your car is ready to pick up the passenger and also ready to hit the road in New South Wales.
Similar to Ola, Didi did not point out car brands and eligible models to be registered with them. At Didi official website, they only mention vehicle requirements that we have mentioned before.
When signing up on the web, you can choose car brands and models from the list chosen by Didi. You can find almost all brands of cars there, so it's likely that all cars that are officially sold in Australia can be used.
At this time Didi only has one vehicle option in Australia, which is Didi Express. An economy ride-booking service comparable to UberX.
Basic Requirements


The basic requirements in question are listed below:

The car at least 10 years old or less, in 2018 the minimum car age is 2008.
It's in a good working condition including the Air Conditioning and the windows, and make sure the vehicle does not have significant cosmetic damage.
A 4 doors car that accommodates up to 4-7 passengers excludes the driver.
It's not a taxi, ex-taxi, government or a rebuilt vehicle.

Vehicle Registration


The NSW Government requires every vehicle that provides passenger transport services to be registered in the state. For this reason, you need to prepare a NSW-registered Vehicle Certificate to meet this regulation.

Vehicle Insurance


Your car must be equipped with third-party damage or comprehensive insurance (and you should be listed as a covered driver) in order to meet state regulations and insure you and passengers when bad things happen on the road.

Car Inspection


Before approving you as their driver-partner, you need to pass a car inspection or better known as a pink slip or an eSafety inspection report. The report is useful to determine the condition of your vehicle and ensure that all parts of the vehicle are functioning properly.

Inspections can be done at any Authorized Inspection Station e-Safety Check or you can use Redbook inspection service which is commonly used for ridesharing purposes. If you use your existing inspection report, make sure the inspection is carried out within the last 6 months.
Payment Information
Didi payment will be automatically transferred to your specified bank account on a weekly basis. To withdraw your driving earnings, they need payment information from you which include:
Bank Account Information


They need your Bank account details in Australia which include Bank Name, Bank Account Number. Almost all the most well-known banks in Australia can be used to receive payments from Didi.

Australian Business Number


The Australian Government requires you to have an Australian Business Number (ABN). It's a unique 11 digit number that identifies your business. Applying for an ABN is quite easy, you can apply it online at the official website of the Australian Taxation Office.
Submit Didi Australia Driver Application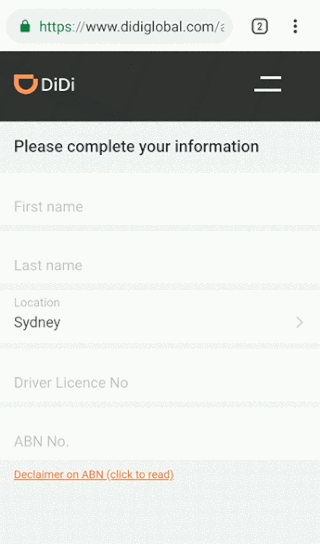 Once you have every requirement in hand, which include personal docs, vehicle docs and payment details, it's time for you to sign up. Just download the Didi Driver app or head over to Didi Global Registration page.
After uploading all the requirements, they will evaluate the docs you've submitted. Didi will get in touch with you via email about the status of your application.