After successfully gaining control of the ridesharing market in Australia and New Zealand, Uber also seems to want to master a food delivery service in these two countries. Starting with the opening of Uber Eats service in Melbourne in early 2016 and in Auckland a year after.
At that time Uber was not the first company that runs food delivery services in these countries. Previously in Australia and NZ, there were companies offering the same services such as Menulog and Deliveroo.
However, by utilizing millions of its ridesharing users, it seems that Uber will not have any difficulty introducing this new service to their loyal customers.
Why I Should Deliver with Uber Eats
This is the most frequently asked question for those who are still hesitant to deliver with Uber Eats. If you are still in doubt, here are some reasons why you should deliver meals with them.
High Demands
Nowadays, people prefer to order food rather than having to go to a restaurant, especially if you have limited time.

The number of Uber Eats users is expected to continue to grow considering Uber always promotes their food delivery service inside their main Uber ride-hail app which has been downloaded more than 500 million times on the Android platform only.

According to Roy Morgan research, over 4.4 million Aussies using Uber ridesharing app in an average three months, it's 21.5% of the population.

Delivery Vehicle Options
No need to worry if you don't have a car that matches by the Uber specified criteria. You can still choose to deliver with motorbike, scooter or even a bicycle.
Get Hired Fast
You do not need to have the special ability to be able to join as a delivery partner. Unlike ridesharing drivers who have many requirements. You only need to fulfil a number of requirements that are easy to obtain, especially if you deliver by bicycle.
Flexible Schedule
You are not required to go online 24 hours with Uber Eats. You can specify yourself when you are ready to deliver meals. Or you can go online only when most delivery requests happen during lunch (11 am – 2 pm) and dinner (5 pm – 9 pm).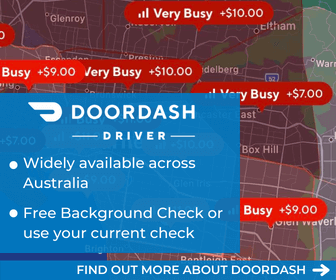 Step by Step Registration
Just like when you want to join in their ridesharing platform. To become a Uber Eats Delivery Partners you don't need to go anywhere. You can register only by using a smartphone or a personal computer at home.
This tutorial applies generally to several cities in Australia and New Zealand including Sydney (NSW), Melbourne (VIC), Brisbane (QLD), Adelaide (SA), Hobart (TAS), Perth (WA), Auckland, Christchurch Wellington and several other cities where Uber Eats available.
Head to Uber Eats Sign up page
Sign up using link below to go to Uber Eats Delivery Driver registration page.

Fill the initial registration form showed up


Email: An active email account, ensure you can access it.
Name: Your first name and last name.
Phone number: Your current phone number including country code, (+61) for Australia and (+64) for New Zealand.
Password: Write down your chosen password, pick a strong yet memorable word.
City: Type the name of the city where you will be actively delivering.
Invite code: Let it blank since it optional.

After successfully typing all the information on the initial registration page, then you can choose how you deliver food with Uber. Each choice has different requirements.
Next you will be asked to review and approve Uber's Term and Condition according to the state where you will actively delivering.

Then you will be asked to apply for a background check. Uber needs to confirm you have citizenship, residency or Visa status that allows you to work in Australia or also known as VEVO (Visa Entitlement Verification Online check).
You will be forwarded to the page where you can upload all the required documents. The number of requirements depends on the vehicle you selected before.

The first personal information needed is a profile photo that shows your whole face and top of your shoulders. If you use sunglasses or a hat, please take it off.

Personal documents needed are Passport or Birth Certificate. Take a picture of the whole card, ensure is clear and all the words are easily readable.

For bicycle delivery partners, you must provide a Secondary ID. It can be Australian or International Driver Licence, Student ID card, National ID and ImmiCard.

After that you are also required to upload driver licence, both the front and the back of the document are required.
And finally, for partners (other than delivery by bicycle) you are required to upload your Vehicle Certificate and Vehicle Insurance Policy documents.

After all documents have been submitted, press Continue and wait for Uber to verify all the information that you have provided.

If the documents are accurate and meet the requirements, you can even get feedback in a matter of hours.
Uber Eats Driver Requirements
Just like their ride-hailing services, Uber also needs some of your document and vehicle requirements. However, the requirements are not as much as needed when you want to register as a rideshare driver.
Delivery by Bicycle
The requirements for delivery by bicycle are very easy since a bike does not require registration certificate and insurance.
You're at least 18 years old and able to ride a bicycle.
Proof of Identification. Choose between passport or birth certificate, make sure your legal names, surname, birth country, birth state, birth city, gender and date of birth are visible in the photo.
Secondary ID. It can be Australian or International Driver Licence, Student ID card, National ID and ImmiCard. In case the Secondary-ID is not written in English, it must be accompanied by a NAATI-certified translation.
Pass a background check and have the right to work in Australia (VEVO check).
Delivery by Car and Motorbike/Scooter
You are required to upload several requirements relating to your personal information and vehicle that will be used for delivery.
You're 18+ years old.
The car, motorbike and scooter must be a 1990 model or newer. Two and four doors are acceptable for delivering with car.
Proof of ID. Photo of your Passport or Birth Certificate (Australian only). The photo should clearly show your legal names, surname, birth country, birth state, birth city, gender and date of birth.
Driver Licence. You need to have a full Australian Licence (delivery by car) and full/probationary Australian Motorbike Licence (delivery by motorbike and scooter). The front licence photo must clearly show your photo, name and address. Then the back licence photo should show your licence issue date, expiry date and date of birth.
Vehicle Registration document. Photo of the document must clearly show the vehicle plate number, VIN, vehicle model/year and the document expiration date.
Vehicle Insurance. The insurance must be either Comprehensive or Third-party Property. Your name, licence plate, the make and model, and expiration date must be visible. If the docs are consist of a number of pages, please use a pdf version of the doc.
Pass a background check and have the right to work in Australia (VEVO check).
Registration Status and Support
Sometimes you don't have all the complete requirements when you want to register, but still want to register. Don't' get worried, It's not necessary to have all the documents in the hand right away.
Because Uber knows, some requirements require times before they can be used, such as background checks that require up to 14 days.
You can start by uploading the documents that you have in hand first. If one day you want to add another requirement document, you can simply visit the same registration page and log in using the email and password that you specified earlier.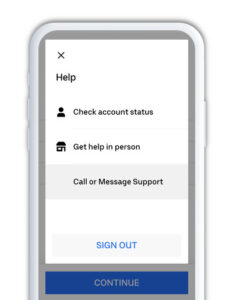 To view the status of the Uber Eats Delivery Partner registration, you check the status by selecting the three horizontal line icon in the top right corner and selecting " Check account status"
If you need help regarding registration, you can also get help from the registration page after you log in. Just select the three horizontal line icon in the top right corner to find the help that suits you like " Get help in person" or "Call or Message Support".