Note: This post includes affiliate links. We may receive compensation for referring new delivery drivers.
After six years of building a food delivery business in North America and becoming the largest market share then beat some of its rivals such as GrubHub and Uber Eats. DoorDash finally chose Australia for their first expansion outside its homeland in early September 2019. Melbourne, one of the top foodie cities around the world, become the first city where Australians could try their on-demand food and groceries delivery service.
In the on-demand food delivery industry, DoorDash is certainly not alone in this country, several companies are offering similar services. The first is the Australian-founded company Menulog and the current market leader in the industry, Uber Eats.
As we know online food ordering has become increasingly popular in the country in recent years. DoorDash seeks to capitalize on this opportunity by expanding massively. Currently, they are opening their services in over 60 cities across Australia. You can also take advantage of this opportunity by becoming a Dasher or a DoorDash delivery driver to earn extra income.
DoorDash Driver Requirements Australia
Just like any other side hustle, including DoorDash, have a relatively low barrier to entry. Drivers can sign up and start working quickly without a lengthy application or interview process. For those who are serious about becoming DoorDash Dasher in Australia, you must have several requirements, be it personal or vehicle docs.
Most of the requirements are similar to the other gig-economy delivery jobs, so for those who have already registered with other apps, they won't have any difficulty fulfilling the following requirements.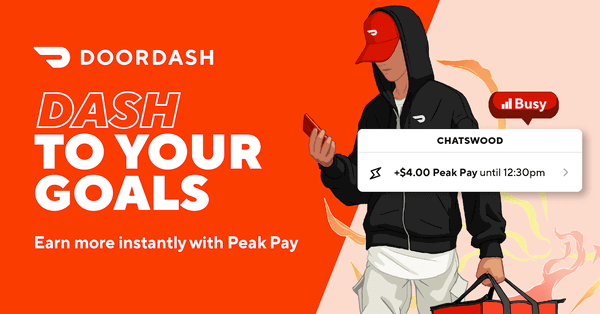 Personal Requirements
This is a requirement relating to your personal information.
You must be over 18 years old
Have access to an iPhone or Android smartphone
Pass an online background check against your provided personal information.

Before running a background check make sure you have a valid personal identity. It can be an Australian Passport, Birth Certificate or Citizenship Certificate. If you do not have Australian citizenship then you must show a valid visa that provides your work rights in the country.

Having an Australian Business Number (ABN). Every delivery driver in Australia is required to apply for an ABN.
Vehicle Requirements
Bicycles are the most efficient vehicles for delivering food orders, especially for delivering food in rush hour and in the city where four-wheeled vehicles find it difficult to park. Using a bicycle for delivery also waives the vehicle requirements.
Besides bicycles, you also have the option of delivery with a car or motorbike, each vehicle has its own advantages. With a scooter or motorcycle, you can reach restaurants and deliver your order faster with less effort and expense. Delivery by car allows you to receive and deliver many food orders at one time.
If you are interested to drive using a motorbike or car with DoorDash. Then you need to look at some of the requirements below.
A valid driver's licence
Don't have an Australian full or unrestricted licence? You can still use your Provisional Licence (P1 or P2). An overseas licence also accepted for temporary visa holder and students. See more in our other post about the use of provisional licence with food delivery jobs.
Auto insurance (CTP-insured)
Doordash for Driver Application Process
As a new player on the continent, DoorDash certainly needs a lot of delivery partners or also known as Dasher to meet the growing food delivery demand day after day. More drivers mean faster delivery time and higher customer satisfaction.
This is an opportunity for you to be a part of their efforts to become an on-demand food delivery market leader in Australia.
In case you are interested in how to become a DoorDash delivery driver or commonly referred to as Dasher, here we provide the delivery driver application procedures in Australia.
Visit DoorDash Sign up page


To start the registration process you are advised to visit the official registration page via a web browser such as Safari, Firefox or Chrome Browser using your smartphone or a personal computer. Clicking on the signup button below will take you to the DoorDash Australia Driver registration page.

Join now while registration is open!

Highlights

DoorDash welcome any rideshare and delivery drivers
Easy requirements and use any vehicle to deliver
Free NCC Background Check or use your current check
Overseas and Provisional licences are accepted

Filling Profile Informations


Once entering the registration page, the initial step is to type in your valid email address and click Next. Ensure the email is active simply because all updates about driver registration status will be informed there.

After that, you have to enter your Australian phone number and zip code where you want to deliver with the company. Make sure you select the Australia phone code "+61 (AU)" before entering your cellphone number.

The next step is to enter a few more details about you, including your Full Name, Vehicle Details (Bike, Scooter or Car), Birth Date, and your ABN (Australian Business Number). All information must be filled in accurately as it will affect the background check process.

Background Check and Right to Work Check


Dashers are eligible for activation if they pass the background check, in Australia DoorDash uses the services from the National Crime Check (NCC) to perform this task. You can begin background check by visiting the 'Complete National Crime Check' button which will bring you to the Doordash-NCC specific page. It's free of charge for now.

Your background checks should be verified and dispatched within 2-3 days but it can take up to 14 days. The results will be given to DoorDash, you will also receive a copy of your check reports in your email.

Your background check result should contain Non-Disclosable Court Outcomes, which means at the date of the issue there are zero disclosable court outcomes recorded. For temporary visa holders, your VEVO check result from NCC must state that you have (at least) limited work right to work in Australia.

As stated on the NCC page, if you have already completed a check with NCC within the last 3 months, you can use it with Doordash. So, if you have previously received a police check report when registering with Uber Eats or Menulog, you can share it with NCC. By doing this your account will be activated faster since it doesn't need to go through another check.

Need help with the background check process for gig drivers in Australia, requirements and processing time? Read more in our other post about the police or background checks process for rideshare and delivery drivers.

Download Dasher app


After conducting a police check through the National Crime Check (NCC) website, the next step is to download the app for the driver. You can download directly the app called 'Doordash – Driver' from Android Play Store or iOS App Store, once installed the app name may be changed to Dasher.

Yes, you can sign in to the app even if you haven't fully activated it. Log in using your email and password, you may need to verify your phone number via SMS before using the app. After logging in you will be able to see all the menus in the Dasher app but with limited functionality which includes Dash Now and Schedule. When you try to tap the Dash Now button or make an attempt to schedule a Dash then you will get an error message.

While waiting to be activated, you can do a number of things like completing some information such as your payment details or even setting up the Virtual Red Card to your smartphone's digital wallet.

Red Card


Upon the arrival of Doordash in Australia, they require its drivers to get a physical red card to get activated on the platform. It's a prepaid reloadable debit card that drivers use to pay only for select Doordash orders. But now they provide an alternative by providing a virtual red card that has the same function.

Newly registered drivers don't need to wait for a red card to start driving because a virtual card is automatically available when drivers log into the Dasher app. They can use this card with a digital wallet on their smartphone. So make sure your device has installed Google Pay (for Android) and Apple Wallet (for iOS).

Payment Details


Submitting your personal bank account will ensure that DoorDash can process your weekly pay via direct deposit. To get this done, download the Dasher App, and log in with your email and password. Now go to the Earnings menu and select the bank icon at the top of the screen and update your Payout Methods.

If this is your first time submitting payment details, then you are required to verify your identity by uploading a photo ID. It can be your driver's licence or other valid Government ID. Once done, you can continue by filling in the BSB code and bank account number. You will get paid on a weekly basis which means your money will be sent at the beginning of the following week.

Account Activation


Dasher is eligible for activation when they have filled in all the required personal details and passed the background check via NCC (you have received the check results in your email.).

When you have done all stages, the next step is to wait for them to activate your Dasher account. It can take up to 5 business days after you have received your check results from National Crime Check (NCC), and contact DoorDash immediately if the account is not yet active after passing that time.

Learn more about the Doordash driver account activation: how to know your account activation status, how long to get it activated and how to speed up the process and start delivering.

How do I know if my DoorDash account is active? When your account is active you will receive a notification via SMS on your registered mobile number and also an email. In addition, you can also immediately Schedule a Dash or Dash Now once after logging in to the Dasher app.

If you're unable to pick a date in the Dasher and it shows "You do not have permission to perform this action" alert, it means your account isn't yet active.

Start Delivering


Once your account is activated, you officially become a Dasher in Australia and you are ready to Dash Now or schedule your first Dash.
Where is DoorDash Available in Australia?
Starting from Melbourne, DoorDash has been available in over 60 cities across Australia by the end of 2022. Some of them are Sydney, Brisbane, Gold Coast, Adelaide, Perth, Cairns and some regional cities. The company has been expanding rapidly in the country, so it's possible that they have added additional cities or regions since then.
DoorDash Australia Cities

| State | City/Region |
| --- | --- |
| New South Wales | Sydney, Bangor, Bathurst, Beacon Hill, Campbelltown, Caringbah, Nowra, Orange Port Macquarie and Wagga Wagga |
| Victoria | Melbourne, Geelong, Melton and Bunbury |
| Queensland | Beenleigh, Brisbane, Bundaberg, Cairns, Hervey Bay, Ipswich, Mackay, Morayfield, North Lakes, Redbank, Rockhampton, Stafford Heights, Sunnybank, Victoria Pointand and Wynnum |
| Western Australia | Perth CBD, Bunbury and Busselton |
| South Australia | Adelaide |
| ACT | Canberra |
| Northern Territory | Darwin |
| Tasmania | Hobart |
How does DoorDash Works
The way DoorDash works is similar to other services, right after your DoorDash account is fully activated you can start to schedule your first Dash. When there is a delivery request around you, you will receive a delivery opportunity notification on the DoorDash Driver app.
You can see where the location of the restaurant is, where the drop-off location and what you will make from the job. You can accept, decline or pass up the job.
In brief, here is how DoorDash delivery drivers or commonly called Dasher work when they receive a delivery opportunity.
Head over to the restaurant.
Pick up the food. For orders from unaffiliated restaurants, you must manually order and pay for the food manually with the provided Red Card.
Drive to the customer to drop off the meals.
Why You Should Deliver with DoorDash
In Australia, there are lots of food delivery services and you can be part of the service as a delivery driver or possibly you are currently registered as an independent contractor of some of these companies.
The following are the reasons why you should sign up as a DoorDash driver even though you have joined other companies.
Market Leader in the US Food Delivery (by Consumer Spend)


DoorDash is not a new player in the business because the company has been launched in 2013 in the United States and operates in more than 4,000 cities globally including Sydney and Melbourne in Australia and will continue to expand.

In its homeland, DoorDash leads the competition with 35% market share of consumer spends this year. Leaving a few other big rivals like Uber Eats which only get a 25% market share. From this, we can see if more foodies in the country trust DoorDash to deliver their meals, this means more orders are delivered by their drivers.

After successfully dominating the food delivery market in the US, they might also apply the same strategy to be able to compete with their competitors in Australia to win the competition.

Easy Requirements


You can use any vehicle to deliver with DoorDash, you can use any car or two-wheeler vehicle such as a motorcycle or bicycle. But for motorized vehicles, you must ensure that your vehicle is roadworthy and comply with local regulations, including auto insurance. This job is suitable for those who want to become a rideshare driver but are constrained by requirements.

Flexibility and Freedom


As an independent contractor, you have the flexibility and freedom to determine for yourself when you start and end your work. You can make this a part-time or even once-in-a-while job to support your personal finances.

No Experience Needed


It's not necessary to have any prior work experience to start delivering with DoorDash. They welcome any rideshare driver and delivery partners across Australia to join their platform.
How much does Doordash pay?
As a gig economy worker, of course, you already know that income depends on you. As you decide for yourself when and where you should work. The income of a Doordash driver (also called Dasher) depends on the base pay (sometimes plus peak pay when it's busy) on every delivery request they receive.
If a driver is online at the right time and location, such as around lunch (generally 11 am – 2 pm) and dinner (generally 5 pm – 10 pm) in the busy area, then they will get orders easily. During peak hours, Doordash usually also offers higher peak pay, which will give Dasher more income.
Actually, it was difficult to determine how much Dasher's minimum hourly wage is. Because working with an on-demand delivery service like this platform is highly dependent on several things that we have mentioned earlier. You can see an example of a driver's earnings from a screen capture below.
Disclaimer: For illustrative purposes only, actual earnings may differ and depend on expenses. Hourly pay is calculated using average Dasher payouts while on delivery (from the time you accept an order until the time you drop it off) and includes compensation from peak pay, tips, and other incentives.
If you think that the hourly pay rate is still low, then you can try to learn from a hard-working driver in Sydney (likely a Top Dasher) who makes more than a thousand dollars in one week. Which is certainly a good income for a side hustle.
The job is done within 28h 55m (Dash Time), the time for which the driver is online, including waiting for the order to come. However, based on the screen capture above, the Dash time (the driver's total online time on the platform) is quite far from the active time, 28 hours dash vs 17 hours active. With the 10-hour distinction, the driver might take advantage of it by delivering simultaneously with other platforms, such as Uber Eats, Menulog or Deliveroo, which will certainly increase their income.
In case you have previously heard testimonies from fellow drivers about Doordash, especially in the early days of this platform's presence. Just like a lower pay rate, not busy as competitors, longer waiting time, etc. Now consider trying it yourself, because the platform already has quite a lot of consumers and restaurant partners which of course affects the orders offered to its drivers.
Delivery payout day-to-day may vary depending on when and where you are online with the platform. For example, deliveries during peak lunch hours in CBD likely will make you earn more.
DoorDash Pay Model
The company is trying to create a pay model that is designed to make earnings fair and transparent.
DoorDash Total Earnings = Base pay (Time, Distance, Desirability) + Promotion (Peak Pay)
Base pay is determined by various factors including the driving distance, estimated activity time, traffic, parking, and wait time at the store. Deliveries that are expected to take additional time, and that are less favoured by Dashers might have a higher base pay.
Promotion is extra pay for orders that meet specific conditions. It's offering Dashers a chance to earn even more per delivery with Peak Pay incentives. You can access real-time information on which spots and times are eligible for peak pay bonuses directly on the Dasher app home screen heatmap.
Here are some examples to illustrate how much DoorDash pays per delivery in Australia. Here we give examples of two different types of orders, standard orders (pickup at the store then deliver) and Shop & Deliver orders (shop for items at the store and then deliver).
Both have quite different pay, where Shop & Deliver offers much higher pay. This is understandable because when receiving this kind of order, the driver must shop for customer items and use the company Red Card at checkout.
When do drivers get paid?
DoorDash drivers will be paid every week, and the income you get on Sunday – Monday will be paid starting on Monday next week through direct deposit. The payment process takes 2-3 days to reach your account or no later than Wednesday night.
But what if you've still not received payment? If your payment is missing please double-check your bank account information including your BSB Code and Account Number. Make sure the bank account you are using is a checking account since DoorDash is unable to deposit payments into a saving account.
However, Dashers in Australia also have the opportunity to be able to cash out their earnings daily with the Fast Pay. Currently, DoorDash does not charge a fee to cash out, but you can only request it once a day.
Pros and Cons Driving for DoorDash
Besides the reasons why you should sign-up as a DoorDash driver, you also need to know about the benefits and drawbacks of delivering with them in Australia.
Pros
You can be Dasher at 18 years old, so it is suitable for students who want to earn extra money.
Easy personal documents and vehicle requirements when compared to rideshare service.
More restaurants. When opening the DoorDash customer app, you'll notice that there are more restaurants listed on the platform. You might even find restaurants that are not listed in other food delivery apps. More restaurants and meal selections could mean more opportunities for delivery.
More Promotions. As a newly-launched food delivery service, DoorDash wants to be known by foodies in Australia by doing various promotions like free delivery for the first 30 days, a $15 off discount and others that will attract people to try this service. More orders mean more delivery requests for drivers.
Cons
The delivery pay can be low if you work in an area that is not busy. However, the app has a heatmap feature so you can find out where the busy area is in your city, so you will have a bigger chance to get a peak pay promotion.
In contrast to rideshare drivers, as delivery drivers you have to deal with common challenges such as parking at the restaurants, finding delivery locations in buildings, long waits at restaurants and waiting for food to be prepared.
Screenshot from DoorDash Driver Australia