Although Uber Ridesharing service was presented in Melbourne in 2014 its food delivery service just arrived at the beginning of 2016 in Australia and 2017 in New Zealand. At the time, Melbourne and Auckland was the first city where Uber Eats was available and became the only city in both nations where you can order food through the Uber platform.
Uber is not the first player in meals delivery service in these countries. There are similar startups that provide the same services, some of which are Menulog and Deliveroo.
To get started delivering with Uber Eats, there are some easy requirements that you must have. The requirements related to your personal and vehicle information.
Where is Uber Eats Available?
You have the opportunity to become an Uber Eats delivery partner wherever this service is available across the country. Unlike its ride-hailing service that is available in more than 30 cities, based on information on its official site, Uber Eats is currently only available in 17 cities in Australia.
This number is likely to continue to grow, at least the same amount as the city where ridesharing service is available in the country.
Uber Eats Australia Cities
State
City
New South Wales
Sydney
Newcastle, Wollongong
Victoria
Melbourne, Geelong, Bendigo, Ballarat
Queensland
Brisbane, Cairns, Gold Coast, Toowoomba, Townsville, Sunshine Coast
South Australia
Adelaide
ACT
Canberra
Western Australia
Perth
Tasmania
Hobart
New Zealand
Auckland, Christchurch, Wellington, Hamilton, Dunedin, Tauranga, Darwin
How to Apply
It's easy to become Uber Eats delivery partner, just like its ridesharing service you can apply online with your smartphone or personal computer.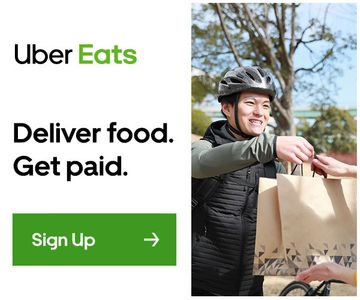 Or you can find out more in our other post about how to apply Uber Eats in Australia step-by-step with screenshot.
Once all your required documents have been approved including passing a background check your, account should be active in 5 business days or even less.
Personal Requirements
This requirement is useful for Uber to get to know you personally and check whether it is under the standards set by the government and the company.
Basic Personal Requirements


To be able to start delivering food with Uber Eats you must:

Over 18 years old.
Dressed nicely and be polite and respectful when doing the delivery services.
Take a profile photo that shows your whole face and top of your shoulders without sunglasses or a hat.

Proof of Identity


To deliver with UberEats, you need to confirm your identity. To achieve this, they need your Passport or a Birth Certificate for Australian. Take a clear photo of it, so that all writing can be easily readable or the document will be rejected.

For the partner with a bicycle, besides the passport and birth certificate, you also need to upload additional identity, Uber called it Secondary ID. It can be Australian or International Driver's License, Student ID card, National ID or ImmiCard.

Additional documents

During the registration process, Uber will conduct a Visa Entitlement Verification Online or known as VEVO checks for partners who cannot provide an Australian Passport, Australian Birth Certificate or Australian Citizenship Certificate.

They also conduct background check thru the Australian Criminal Intelligence Commission (ACIC) accredited agency. When the check is successful, a copy of the results will be provided via email.

Driver's Licence


This is needed for those of you who want to delivery with car, motorbike and scooter. A full Australian licence is required for delivery, however, a provisional licence is accepted if delivering only by scooter or motorbike.

Delivery with a bicycle is not required to upload a driver's licence, but if you have it, you can use it as Secondary Proof of ID.
Vehicle Requirements
If you decide to deliver food with car, motorbikes or scooters you must provide documents that support the legality of the vehicle you will use.
Basic Vehicle Requirements

Your vehicle is 1990 or newer.
Your vehicle must be in good condition and roadworthy.

Vehicle Registration


You should prepare your vehicle's certificate, it must be validly registered in Australia. Alternatively, you can take screenshot of vehicle registration information recorded in the Victorian Vehicles Register from Vicroads.

Vehicle Insurance


Insurance is a mandatory requirement to have when your car or motorcycle used for delivering service. The insurance could be a third party property or comprehensive.

Make sure your insurance includes the following information: the insured driver, insured vehicle details, policy type, expired date and liability coverage. If it across some pages you can upload using a PDF version.
Optional Equipment
For biker and motorcyclist, Uber recommended you to bring following optional equipments when doing deliveries:
An insulated bag, it can keep hot items warm and cold items cold, since most eaters are more likely to receive orders at the intended temperature. You can use your insulated bag or order the branded one from Uber.
Personal identification, since security might need to verify your identity to give you access to a dropoff location).
Additional phone accessories like a portable cell phone charger and phone holder for navigating.